International Journal of Cyber-Security and Digital Forensics (IJCSDF)
A Peer Reviewed, Refereed, Indexed and Leading Journal in Cyber Security and Digital Forensics
Forensic Evidence of Copyright Infringement by Digital Audio Sampling
Analysis – Identification – Marking
ISSN 2305-0012 (online)
Seiten 170-182
Vol. 3, No. 3
Year of publication 2014
Date of publication 2014-07-31
DOI: 10.17781/P001337
Owner: The Society of Digital Information and Wireless Communications
Published by The Society of Digital Information and Wireless Communications
Miramar Tower, 132 Nathan Road, Tsim Sha Tsui, Kowloon, Hong Kong



Abstract. In recent years, the number of attempts to use digital audio and video evidence in litigation in civil and criminal proceedings has increased. Technical progress makes editing and changing music, film and picture recordings much easier, faster and better. The methods of digital sampling differ from the conventional pirated copy in that using a sample involves extensive changes and editing of the original work. Different digital sampling methods make the technical analysis and the legal classification more difficult. Targeted analysis methods can clearly identify a case of sampling and belong to the main field of forensic analysis. If persuasive evidence of an unauthorized use of sampling cannot be produced, the proof is useless in the legal process. Labelling technologies that are applied correctly make an important contribution to the effective detection of unauthorised sound sampling. There are hardly any holistic approaches that integrate the problem of sound sampling into the fields of analysis, identification, and labelling. In combination with specific technical protective mechanisms against sampling, an unauthorised use of samples protected by copyrights can be prevented or reduced. Using and sampling somebody else's piece of music or video can be a copyright infringement. The copyright and the neighbouring rights of performing artists and the neighbouring rights of phonogram producers are affected by the consequences of illegal sampling. Part 1 of the article introduces the problems of digital audio sampling, Part 2 describes the typical manifestations of sampling, Part 3 illustrates various analytical procedures for the detection of audio sampling and Part 4 shows the identification by labelling strategies.
Keywords audio • authentication • bootlegging • digital techniques • single sound sampling • ENF • Electric Network Frequency • forensics • forensic audiology • realtime frequency analysis • cryptography • neighbouring rights • melody • mash-up • mix production • multi-sampling • phase inversion • remix • sample medley • sound sampling • sound separation • spectrogram • spectrometer measurement • sound collage • sound sequence sampling • copyright • watermarking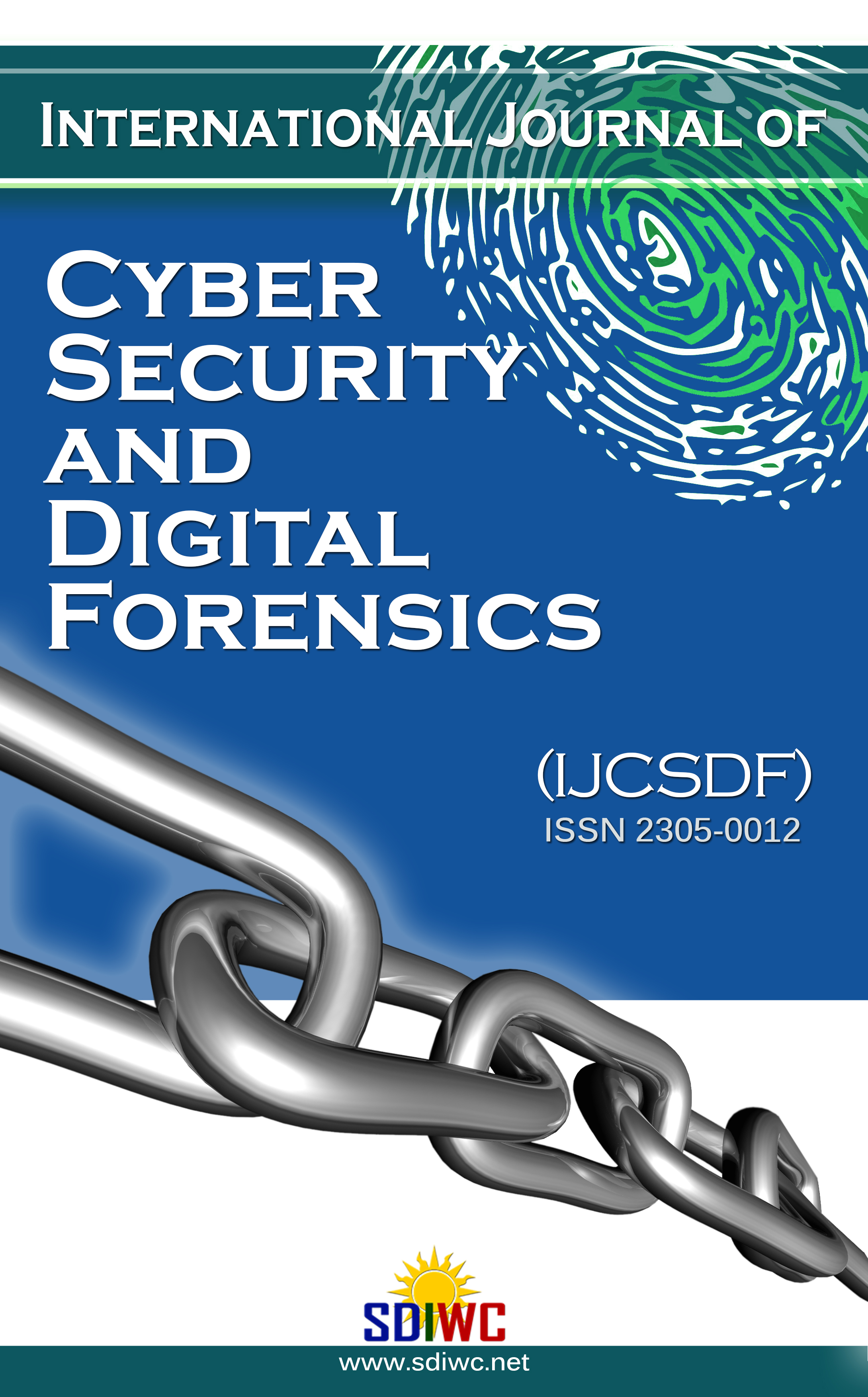 The International Journal of Cyber-Security and Digital Forensics (IJCSDF) is a knowledge resource for practitioners, scientists, and researchers among others working in various fields of Cyber Security, Privacy, Trust, Digital Forensics, Hacking, and Cyber Warfare. We welcome original contributions as high quality technical papers (full and short) describing original unpublished results of theoretical, empirical, conceptual or experimental research. All submitted papers will be peer-reviewed by members of the editorial board and selected reviewers and those accepted will be published in the next volume of the journal.
As one of the most important aims of this journal is to increase the usage and impact of knowledge as well as increasing the visibility and ease of use of scientific materials, IJCSDF does NOT CHARGE authors for any publication fee for online publishing of their materials in the journal and does NOT CHARGE readers or their institutions for accessing to the published materials!
As such, IJCSDF reserves the right to select only best submitted papers for publication. All submitted papers would be reviewed by at least two reviewers and one member of editorial committee.